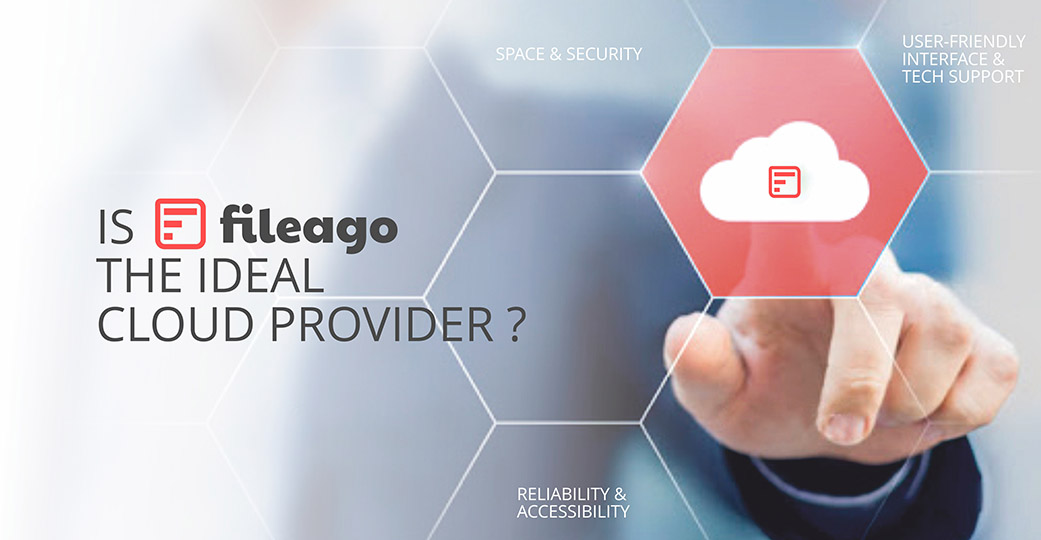 Why is Cloud Storage essential and what are the major concerns that revolve around it? Space and security, reliability and accessibility, user-friendly interface and tech support? Yes, all of them.
The fear of hard drives malfunctioning and losing important data is making the masses turn to Cloud Storage for storing, editing and sharing their data securely. But is your data really safe or is it susceptible to hacking?
Let's take a casual stroll through FileAgo's Cloud Storage and see if it rids all the concerns.
Space & Security
What good is a Cloud platform that will only allot a few gigabytes of storage for its users? It won't be a hassle uploading documents, but your storage will start running low soon after you regularly start storing multimedia files on your Cloud.
How does FileAgo tackle this problem, you ask? The basic FileAgo plan offers a storage of 2 Terabytes (2TB = 2048GB), so the users can store, edit, co-edit and share their data without any concern. 2TB not sufficient? Well, roadblocks aren't part of any packages at FileAgo. The advanced plans offer UNLIMITED storage and are secured using military grade encryption.
What is Military Grade Encryption? Military grade encryption is Advanced Encryption Standard (AES) 256 bits. It is a more hard-to-crack algorithm compared to its predecessors, ensuring tough security for your data on FileAgo.
In addition to that, FileAgo has implemented a unique form of the Granular Permissions Model. Using this feature, users can create a set of flexible access rules to restrict other users from accessing your data.
In addition to that, FileAgo comes with Two-Factor Authentication (2FA), Event Logs, and will block any Internet Protocol (IP) Address, temporarily, after multiple failed login attempts.
Reliability & Accessibility
The security features offered by FileAgo showcase its reliability. But wait, there's more.
FileAgo brings a plethora of features to the table. It keeps a track of all the changes made to a file and preserves the previous versions of it for a certain period of time, thereby preventing data loss.
How would you feel if you were able to co-edit documents with your colleague? Amazing, right? Using Collabora Online Editor, which is one of the integrated softwares in FileAgo, you can edit and co-edit documents on the portal itself. Everytime a particular document is edited, FileAgo stores its previous version in the logs. These logs are accessible for the users and the previous version(s) of the document can be recovered easily.
Additionally, all the files on FileAgo are transferred via Hypertext Transfer Protocol Secure (HTTPS) and then stored using AES256 encryption.
Familiarised yourself with a few of the features? Let's talk about accessibility. FileAgo operates smoothly across all devices - be it your laptop, desktop, tablet or mobile phone browser. The portal is designed as a Single Page Application (SPA), so no irritable redirections to worry about.
FileAgo is able to recover from server crashes and errors in a jiffy because the software has been written entirely using Erlang. Wondering what Erlang is? In a nutshell, Erlang - developed by Ericsson and used by Amazon, Yahoo, Facebook, and WhatsApp in the past - is a programming language that is known for its concurrency, distribution and fault tolerance.
Renowned companies like T-Mobile and Motorola have also used Erlang for some of their services. Due to the fault tolerance capability, the FileAgo server recovers from rare crashes quickly and efficiently.
User-friendly Interface & Tech Support
Fed up of clicking on links and getting redirected to another site or page to carry out one simple task? FileAgo users don't get flustered because of that. As mentioned before, the portal is a Single Page Application (SPA) that makes it easy-to-use.
Using any device and a browser, all features and integrations of FileAgo can be accessed and used on the same page. No need to be a ping-pong ball stuck in a rally between the paddles. Just be on one user-friendly interface and get work done, efficiently and safely.
And after all this, if at all a problem arises, FileAgo's helpdesk is active 24x7. Prompt assistance from a FileAgo Expert will always be one click away. Users can get in touch with the FileAgo Helpdesk via the website.
To summarise, FileAgo is a cloud space provider that comes with a lot many features and integrations, all of them based on an extremely secure server.