Configuring WinSCP
Acording to Wikipedia:
WinSCP is a free and open-source SFTP, FTP, WebDAV, Amazon S3 and SCP client for Microsoft Windows. Its main function is secure file transfer between a local and a remote computer. Beyond this, WinSCP offers basic file manager and file synchronization functionality.
WinSCP is available to download from its official website, and is our recommended WebDAV client for connecting to FileAgo WebDrive endpoints.
Configuration
WinSCP will prompt you to create a new site when it is first run. Proceed to create one using the following settings:
File protocol: WebDAV
Encryption: TLS/SSL Implicit encryption
Hostname: the hostname of your cloud storage or self-hosted FileAgo server
Port number: 443
User name: email address of the FileAgo user account
Password: account password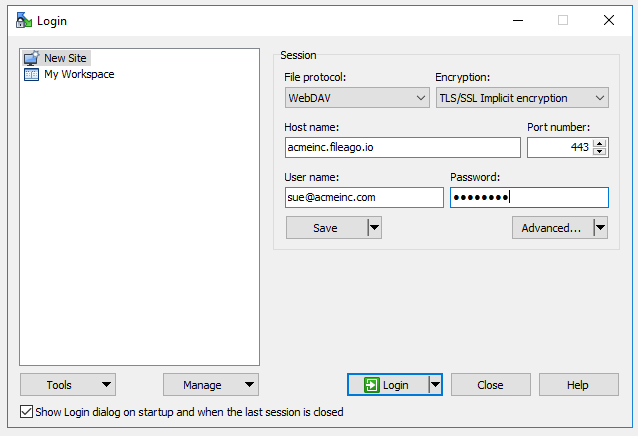 Click on Advanced in order to configure the WebDrive path.
In the Advanced Site Settings dialog, browse to Directories, and set the path in the WebDrive endpoint URL: /webdrive/suehome (example) as Remote directory, and hit Ok.
The WebDrive endpoint URL you created will probably be different, so set the correct path as Remote directory.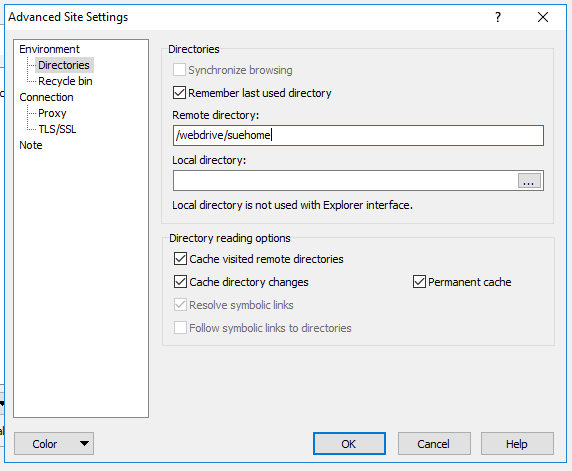 You have successfully configured WinSCP to work with your WebDrive endpoint. Click on Login to connect to the WebDrive endpoint and access its data or transfer new files.
Opening remote files
It is possible to open remote files in the appropriate application and make change to it directly. Behind the scenes, WinSCP will download the file locally into its temp path and open the local copy in the application (for e.g.: Word). When you make any change to the opened file and save it from within the application (Word), WinSCP will proceed to upload the new file back to FileAgo server and replace the previous one.
Modifying an existing file via WinSCP will simply create a new revision. Previous revisions of the file will still be available for you in the Web Portal.
You might have to configure the editors in order for this to work correctly.
To do that, go to Preferences -> Editors and click on Add.. and then add a new editor with the settings as shown in the screenshot below: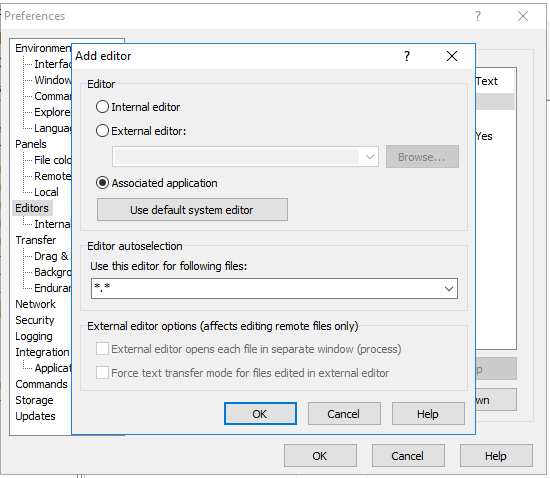 And last but not least, make sure that the editor you have just now added is at the top of the list so that it is the 1st preference as editor (use Up or Down buttons to arrange the items).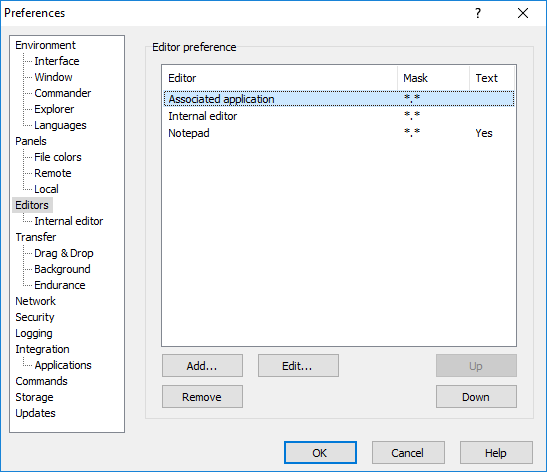 You are all set! From now on, double-clicking on any remote file will open it in the local application suited to handle that file type.
Locking and unlocking files
Imagine a scenario where you and your team members are accessing the WebDrive of a group workspace. It is possible to lock a file for yourself, and then start working on it. Other users will see that the file is locked under your name, and they will not be able to modify that file unless you relinquish the lock (by unlocking), or the lock expires (after 30 minutes).
Simply click on the name of the file, and then lock it via File -> Locking -> Lock.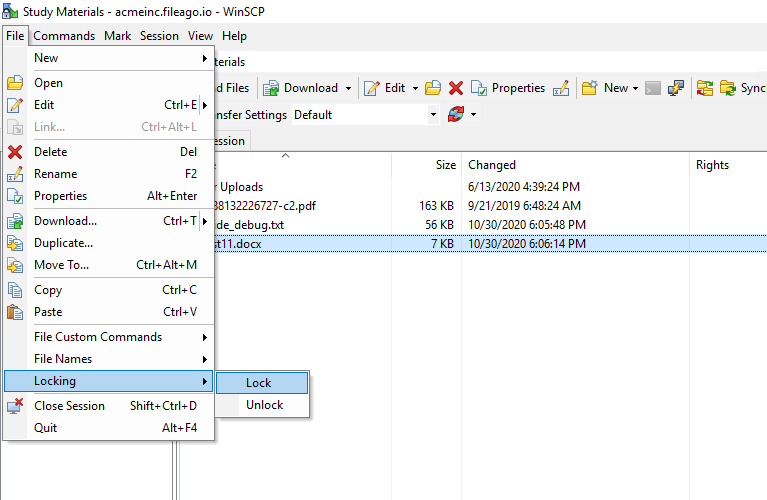 Once your work is completed, relinquish the lock on the file by clicking on File -> Locking -> Unlock.
It is recommended to renew the lock again periodically if you intend to work on a particular file for a longer period of time. Else, the lock will automatically expire after 30 minutes and other users will not know that you already have this file opened at your end.
Creating new files
New files (0 byte) can be created on FileAgo by right click -> New -> .. File. The newly created file will then open in its suitable application for further editing.
This works well for most of the file formats (like txt, docx, pptx etc), however there are problems when it comes to .xlsx file format because Excel application requires some metadata in the file to exist.
The user should therefore keep a copy of a valid blank .xlsx file locally, and copy it to remote path everytime a new excel file has to be created in the FileAgo server.
This process can be made easier by using WinSCP's custom commands.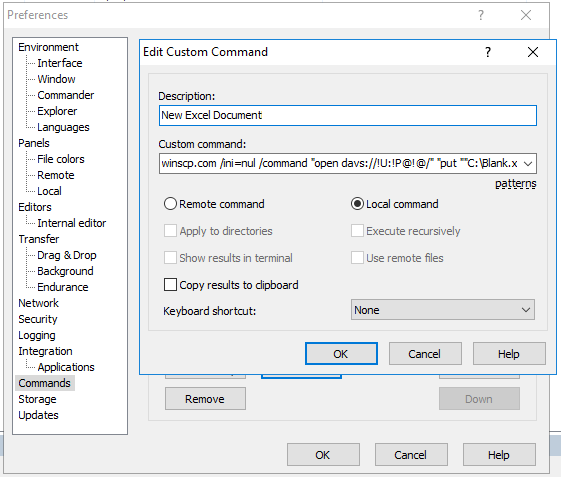 From Preferences -> Commands, add a new custom command with the following configuration:
Description: New Excel Document
Custom command: winscp.com /ini=nul /command "open davs://!U:!P@!@/" "put ""C:\Blank.xlsx"" ""!//New Excel Document.xlsx""" "exit"
Local command: selected
Finally, open Microsoft Excel and save a blank excel file to path C:\Blank.xlsx, and everything is set.
From now on, you can right-click on a remote directory listing, and select Static Custom Commands -> New Excel Document (check below screenshot) which will immediately transfer the blank template file to the remote path on FileAgo. Right-click again and refresh (or press F5) and you should see the new excel document in the remote folder.