Data Security
The security of data is paramount for an organization. So why store your files anywhere else when you get strong security and easy collaboration on your data from within FileAgo?
Protect your data from unauthorised access
By setting file/folder permissions, a user can precisely allow or restrict access to others on his data. FileAgo's unique permission model is highly flexible compared to all other solutions in the market today.
Also, any data that you store in FileAgo is encrypted using military-grade AES-256 encryption technology. We follow all best practices in the implementation of this technology to ensure that even the server administrator cannot gain access to your files by browsing the storage.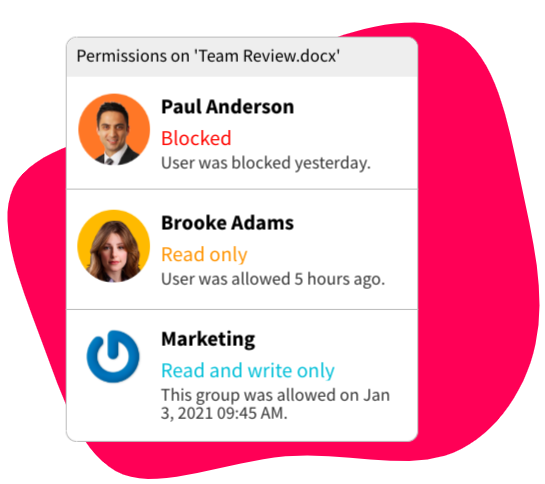 Keep track of every activity happening on your files
Have you ever been in situations where someone in your team has modified a file (or outright deleted it) in the shared storage and then refuse to own up to it?
FileAgo keeps track of all activities happening on files. Any activity which triggers a change is logged in the Event Logs along with necessary information like IP address, date/time, user details and so on.
The logs are important piece of information, and for this reason, they are always retained. For example, you can even search and retrieve all activities which happened on a file more than a year ago.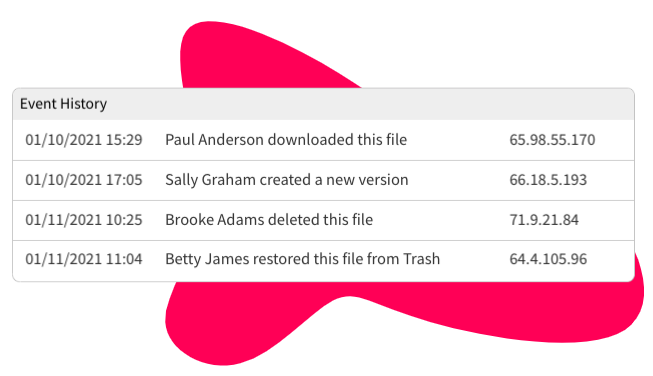 Recover deleted files with ease
Losing important files can be catastrophic for an organization. In FileAgo, there is never an immediate loss of data. If someone modifies an existing file, it creates a new version of the file. Users can view and download previous versions if they need.
Even when files are deleted, they are merely moved to the Trash folder. It will be available there for upto next 30 days so that it can be restored when required.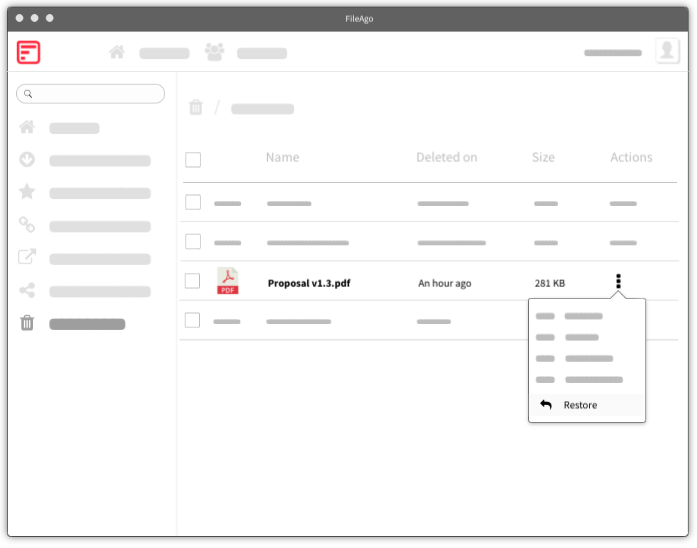 Perfect for all types of businesses
Whether you are managing a small team or SMB or an enterprise, as long as you are working on documents, FileAgo will be a perfect fit in your organisation.
Explore all use cases of FileAgo:
---