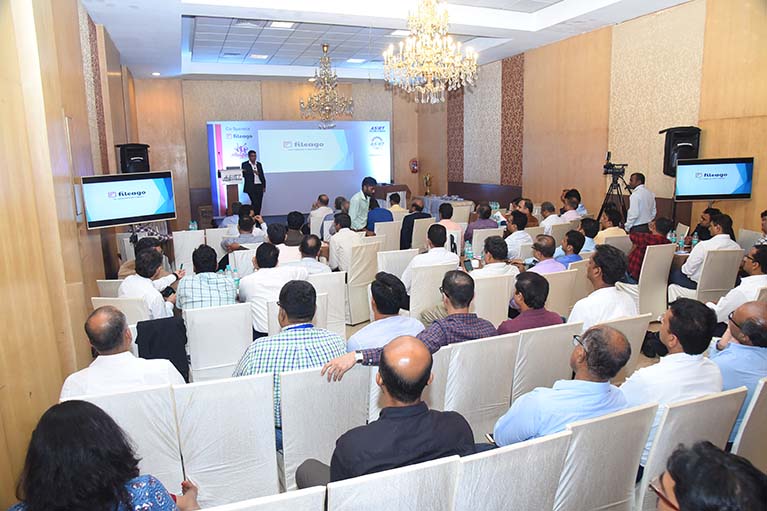 The Association of System Integrators and Retailers in Technology (ASIRT), recently hosted global file sharing and file management software provider, FileAgo, for its October Techday in Mumbai.
The event saw the presence of all three co-founders, who shared a detailed presentation on the unique features and innovations of the software, while also launching a partner focussed business proposition for ASIRT Members. The Techday also marked the beginning of the ASIRT Cricket Premier League (ACPL) 2020, with an enthusiastic player auction that will kick-start the friendly matches and practice sessions.
Mr. Viren Gada, Co-Founder, introduced FileAgo as a secure file management, file sharing, file syncing and collaboration software that offers versatile customisations and can be run on cloud as well as in application servers set up within client's office premises. Focused on data security and ease of collaborative access, FileAgo is an ideal solution for businesses of all sizes.
Apart from sharing, FileAgo also offers vast storage, tracking, and management options. With enterprise grade security, and a prominent global leader as a cloud service partner, FileAgo has already won global recognition within the first year of starting out. Apart from Mr. Viren Gada, FileAgo's co-founders, Mr. Vimal Kumar and Mr. Casper Harnung, also addressed the partners and spoke about the unique features that are as per global standards for security and ease of access.
Speaking about the choice of ASIRT as a platform to collaborate with partner channels to drive enterprise solutions, Mr. Gada said, "We offer an innovative, secure, and customisable solution to file sharing, storage, and management solutions with granular level of collaboration opportunities, where clients can select multiple sets of permissions for various members in the same group. As an international company, we are focussed on providing efficient and customised solutions that add value to our clients, irrespective of their scale or nature of business. We have been extremely happy with the response we are receiving so far, with larger reputed clients, including prominent Indian Public sector clients to International brands and MNC's, coming on board to experience the innovations at FileAgo. In terms of expansion plans, we are looking at a robust and reliable channel partner network to reach out to the SME's, MSME's, and larger enterprise businesses. And we could not have found a better platform than ASIRT to launch this for the Indian market. We are extremely glad and excited to present FileAgo to channel partners at ASIRT and look forward to an accelerated business growth journey!" Concluding the presentation, Mr. Gada introduced their dealer partner and also announced a special offer deal for ASIRT partners.
The evening progressed to the highpoint, with the opening of the auction of players for ASIRT Cricket Premier League (ACPL), under the 'Bid the Buddy' program. In the second year of its existence, ACPL is already a massive success, with a total of 80 member players participating to form 10 teams. The teams will now start practising, marking the beginning of the 2nd season.
Speaking about the ACPL and its instant popularity among Members, Mr. Tushar Shah, President, ASIRT said, "ASIRT has always been about strong bonding, collaboration and friendly networking for Members. As the new Board of Members take charge, we aim to continue working towards this objective.
The ACPL is one such initiative that apart from strengthening a friendly bond, also promotes sportsmanship and drives physical activity – both extremely important factors to combat stress and promote well-being in daily life. The spirit and the enthusiasm displayed by Members during the player auction is extremely encouraging and is a testimony to our efforts at making ASIRT and its Members, a large, happy, fit, and successful extended family of system integrators and IT retailers. My best wishes to all Members"
The event ended with a networking dinner that was full of friendly banter, and vibrant with the energy of the recently concluded auction.
https://www.varindia.com/news/fileago-announces-its-partnerfocused-solutions-at-asirt-techday